If there's one thing Winnipeg homeowners don't compromise on, it's home security. Over the years, there's been a noticeable increase in adopting advanced home security practices to secure residential properties.
Here's how you, too, can make your home more secure.
Secure the Front Door
Let's start with one of the first barriers in your house: the front door. Did you know many break-ins occur easily because of an unlocked or easy-to-unlock front door? As surprising as it may sound, many intruders have little to no trouble entering a house because of ineffective door locks.
So, how can you secure your front door? Start by upgrading your door lock. You can choose from several options, such as deadbolts, high-security locks, Wi-Fi keypads, , and other upgraded door locks. These door locks are extremely effective in preventing unwanted individuals from entering your house.
Additionally, make sure you don't leave any spare keys lying outside in "secret" spots if you're using a traditional door lock. Trust us; experienced burglars know where to look to find a spare key. You don't want them getting their hands on your house key. You can also include an additional layer of protection to your front door by adding a security grill to the main entrance.
Install a Security Camera
Next up, invest in a security camera at your residence. A CCTV system allows you to monitor your indoor or outdoor spaces, even when you're not home. It allows you to "keep an eye" on specific areas within and around your property. In doing so, it also minimizes the chances of intruders breaking into your home.
Installing a smart security system can help you create a safer home environment. You can connect it to smart devices for maximum convenience and security.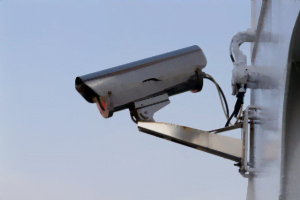 Upgrade Your Lighting
Many homeowners don't realize this, but your lighting choices play an important role in establishing home safety. Smart lighting choices, such as flood lights or motion sensor lights, in or around garages or entry points to your home, can keep burglars and intruders away, simply by startling them with light if they're trying to enter somewhere where they think they may otherwise be unseen,minimizing the chances of robberies at your residence.
Consider investing in exterior lighting. If you have a front porch, patio, backyard, lawn, or outdoor space that gets engulfed in the darkness after sunset, you need good lighting fixtures to enhance visibility. Remember, dark areas make it easier for intruders to trespass and break into your property. On the other hand, a well-lit space makes them more cautious and less likely to intrude.
Installing smart lights and motion detection fixtures is a great way to increase home security. You can also install lamps, lanterns, garden lights, step lights, and other traditional outdoor lighting fixtures to make your home a less likely target for criminals. Lighting, paired with upgraded locks and security cameras, should certainly minimize the chances of robberies and break-ins at your residence.
Our team at Lockmish Locksmith Winnipeg Services provides residential locksmith services in Winnipeg. From upgrading your door locks to installing security systems, we do it all. Contact us now for more details about 24 hour locksmith in Winnipeg